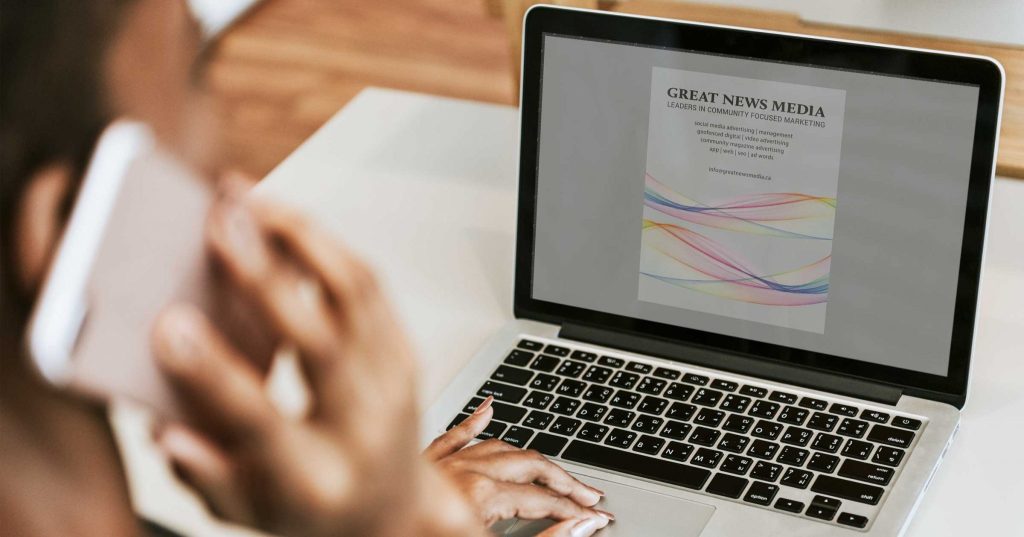 How Len T. Wong Creates Massive Brand Awareness Across Calgary
We have worked with Len T. Wong for years, and have enjoyed assisting Len evolve and craft a concise marketing strategy with a blend of traditional and modern advertising tactics that is optimized for his target market. With the combined goals of selling client homes faster and for more, Len knows that being a top Calgary realtor means being committed to continued innovation with his own marketing strategy. Len's marketing strategy currently includes a combination of advertising in Calgary community newsletter magazines , online digital display ads, tv, video, bus benches, flyers, web, ad words, and social media advertising.
Effective marketing can be broken down into three key buckets. Bucket 1 is AWARENESS: Do people know my name, company name or product? Bucket 2 is UNDERSTANDING: Do people know my value proposition; what makes my product or services unique? Bucket 3 is CONVERSION: That beautiful moment of relevance when people choose me, my product or service (call my number, or Google search for my product / services). Len adheres to the traditional $6 dollar marketing spend mix ($3 or 50% of his budget is committed to Awareness advertising; $2 or 33% of his budget is committed to Understanding advertising; and $1 or 17% of his budget is committed to Conversion advertising. This is the same marketing mix utilized by most successful brands such as Tim Hortons, Pete the Plumber, Westjet, Shaw Media, Telus, Nike, Coca-Cola, Visa, and many more. These successful brands dedicate 80%+ of their marketing budget to Awareness & Understanding advertising tactics such as magazines, digital advertising, TV, radio, billboards, flyers, social media, web, and more.
Recently, we assisted Len T. Wong with the following print and digital advertising tactic implementations that complement his overall marketing strategy objectives: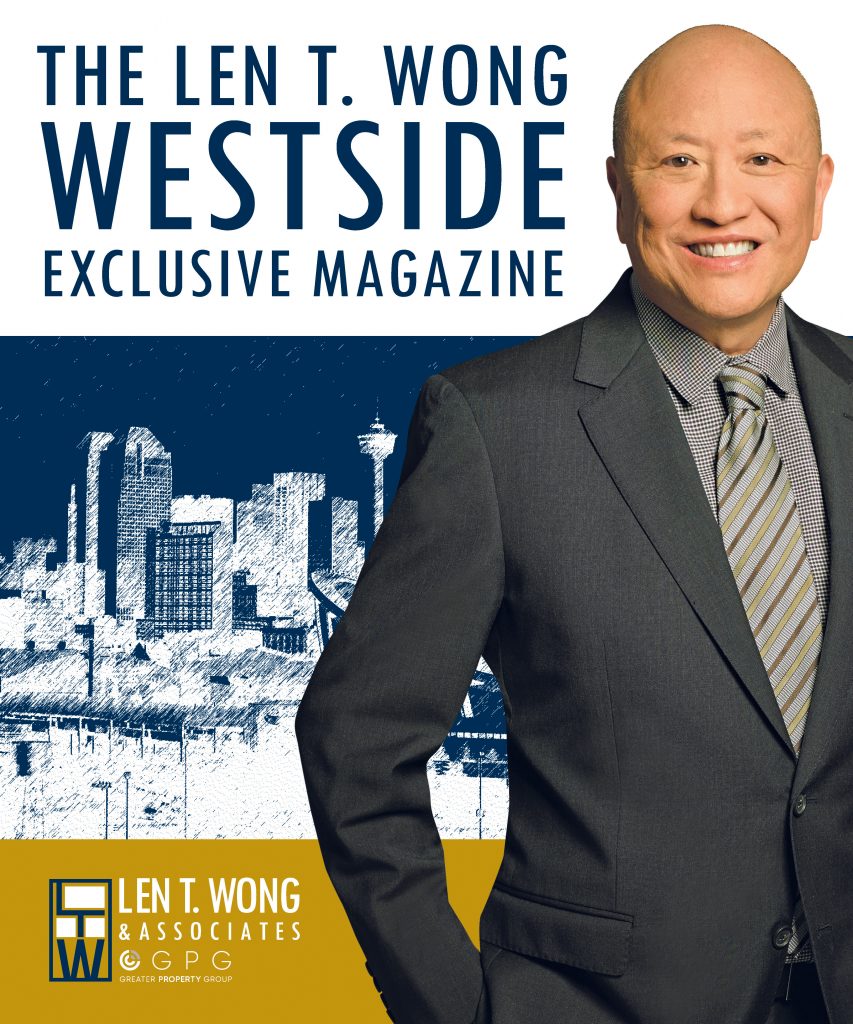 Custom Magazines
Len wanted to evolve his print flyer campaigns to further differentiate his team from the competition. Like many realtors, Len historically has used postcards, flyers, and fold-out flyers to market the homes he is selling. Len wanted to upgrade to a marketing concept that not only properly showcased his current listings, but also clearly outlined his team's unique value proposition. We were delighted to design, craft, manufacture, and deliver 30,000 copies of Len's first 16-page all-gloss magazine, appropriately named "The Len T. Wong Westside Exclusive Magazine". Click here to see his magazine in detail. 
---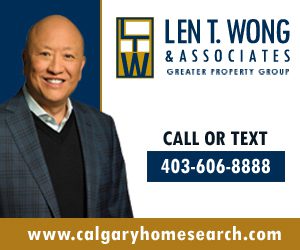 Geofenced Digital Advertising
With over 50,000 average monthly impressions, we provide Len a geofenced (a virtual geographic boundary) digital advertising awareness presence (seen on desktop, tablet, and mobile devices) on many select local community news webpages on www.mycalgary.com; Calgary's most comprehensive community news website. This digital advertising platform is right in line with Len's target market initiatives. From these digital display ads, Len gains more clients, and more click-through website traffic to his own real estate website.
---
Community Newsletter Magazine Display Ads
Delivering Len's campaign to over 64,000 households monthly, we currently place full-page full-color ads in 14 community newsletter magazines that reach Len's current target market. With extremely high readership and delivered by way of Canada Post with total points of call, Calgary Community Newsletter Magazines are a very cost-effective way for Len to create advertising awareness among the residents that live in the communities of his choosing. Len's monthly print display ads grow Len's client base through inbound phone calls, text messages, and emails from both buyers and sellers of homes. Len's print advertising campaigns have rotated across all 87 of our community newsletter magazines, giving Len a citywide advertising presence. Len achieves his desired marketing objectives by shifting his display advertising into different Calgary community newsletter magazines as needed. Annually, Len's community newsletter magazine print awareness campaigns reach over 1,000,000  households and over 2,000,000 readers.
Flyer Campaigns
Delivered to over 30,000 households, we have designed and manufactured Len's flyer campaigns to profile his key value proposition, current listings, historic sales, and members of his team. We coordinate the delivery of these flyers through Canada Post, ensuring delivery to the geofence of his target market. These print campaigns lead to faster home sales and new client acquisition.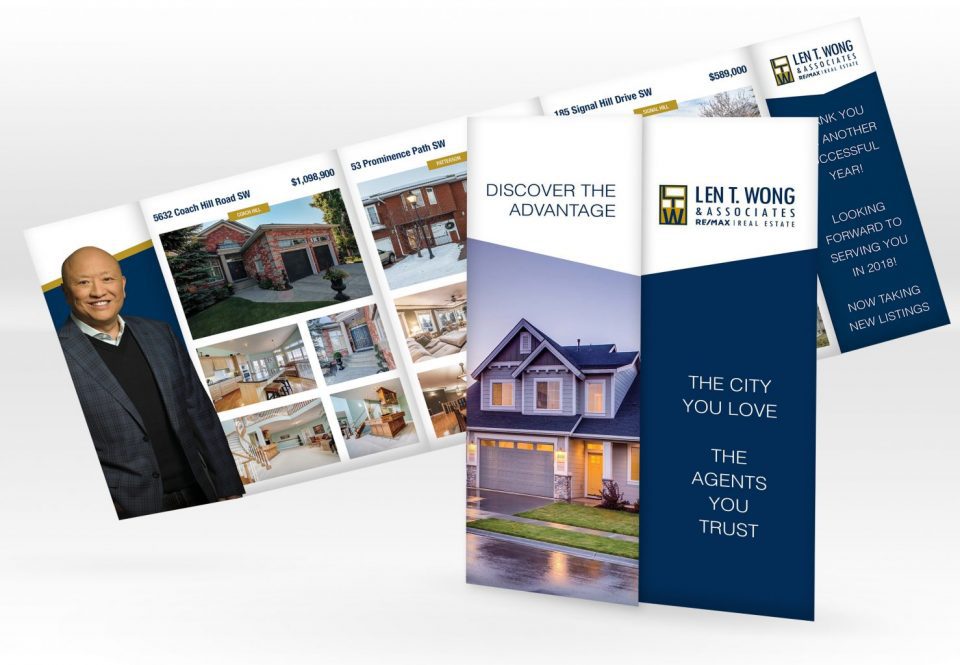 ---
What's next for Len T. Wong?
Len intends to continue with the above mentioned marketing strategy because it works. His listings are growing. He is selling homes faster. He is making his clients more money, too. We are currently working with Len on some community-focused video campaigns, which will be launched in the near future.
At Great News Media, we love crafting and implementing marketing strategies and solutions that drive client acquisition and retention. We are proud to have helped thousands of organizations (including realtors) successfully brand, market and advertise their businesses, products and services. We define marketing strategy as the careful selection of advertising tactics to best promote and sell products and services for our clients, at the lowest CPA (cost per acquisition). Please feel free to contact us regarding any of your marketing or advertising needs at 403-720-0762 | Media Kit | Calgary Community Newsletter Magazine Readership Stats | www.old.greatnewsmedia.ca