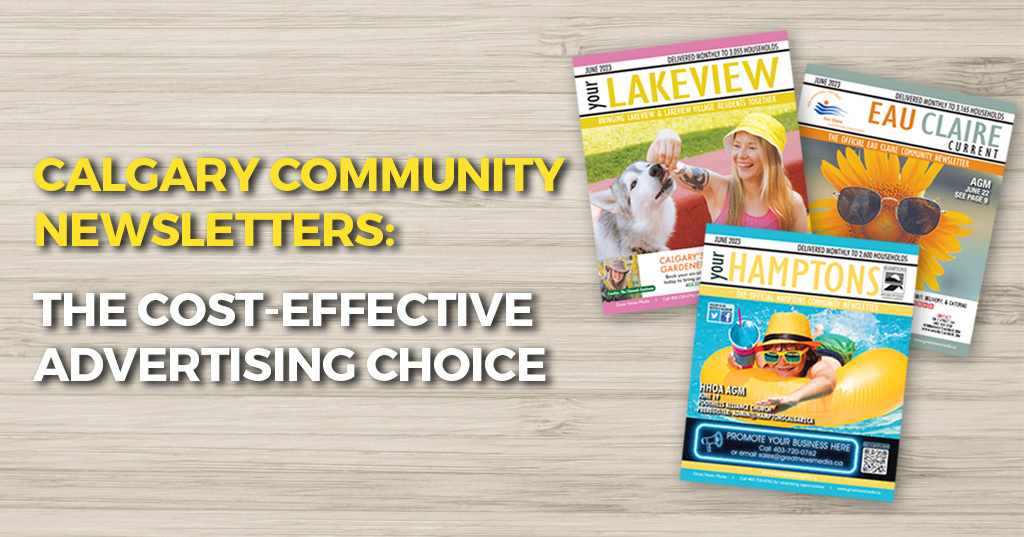 Calgary Community Newsletters: The Cost-Effective Advertising Choice
Building trust with a target market is crucial for businesses looking to establish lasting relationships with their customers. Consistent advertising plays a key role in creating this trust, offering a long-term advantage over competitors who reduce or eliminate their advertising efforts. When comparing different advertising media, such as daily newspapers, radio, television, billboards, directories, and the internet, community newsletters emerge as the most cost-effective option. By understanding the strengths and weaknesses of various advertising channels, businesses can craft highly competitive advertising campaigns tailored to their specific needs.
Community Newsletters:
For businesses seeking low-cost, high-impact, and long-lasting marketing platforms, advertising in any of our 90 community newsletter publications delivered monthly to over 400,000 Calgary households by Great News Media Ltd. is an excellent choice. With advertising rates as low as $0.01 per household, community newsletters offer an incredibly affordable alternative compared to the steep costs of newspaper, radio, television, and billboard advertisements. Calgary residents rely on these community newsletters to stay informed about relevant news, articles, registrations, events, and philanthropic initiatives, making them an ideal platform for businesses to reach their target audience. Furthermore, the glossy covered monthly booklets provide companies with a fantastic and affordable medium to target specific neighborhoods and demographic profiles. This type of targeted community advertising is particularly effective for local businesses looking to attract nearby clients rather than long-distance customers.
Daily Newspapers:
Daily newspapers offer a broad reach and the ability to target specific demographics by placing advertisements in various sections. Similar to the print ads found in community newsletters, newspaper ads can be clipped and kept for future reference. However, running regular campaigns in print media can be costly and is best suited for corporate clients with substantial advertising budgets.
Internet Advertising:
Internet advertising, such as pay-per-click and online writing for search engine optimization, appeals to clients who are already actively seeking a particular product or service. However, search engine optimization can be both expensive and time-consuming. Achieving priority search rankings for specific keywords requires a consistent commitment to blogging, posting, and sharing relevant content with others.
Radio:
Radio advertisements can reach large audiences during peak listening times, such as morning and afternoon commutes. While radio lacks the visual component of other media like community newsletters, it can appeal to listeners' emotions through careful volume, tone, music, and evoke a strong emotional response. However, an effective radio campaign often requires a significant budget, as advertisers usually need to purchase multiple stations in various time slots to reach their entire demographic.
Television:
Television is a powerful broadcast medium that combines sight and sound to create a persuasive message capable of triggering the desired emotional response for a sale. However, the increasing fragmentation of television channels and networks makes it more suitable for larger corporate clients who can afford multiple time slots across various television stations, with less concern for return on investment.
Billboard Advertising:
Billboard advertising relies on capturing commuters' attention in a matter of seconds, making it a "quick glance" advertising medium. It is most effective for navigational messages, such as indicating a business location with a large "turn here" arrow.
Directory Advertising:
Directory advertising targets local clients already in the market for various products and services. People often refer to directories during significant life changes to compare prices before making a purchase. Advertisers in this medium must spend a substantial amount of money to ensure their ad stands out among competitors and secures the best positioning in its category.
Since 1989, Great News Media Ltd. has been a trusted source for timely and targeted community news in Calgary. To leverage the benefits of community newsletters for your advertising needs, call 403-720-0762.  We will discuss your requirements, choose your display ad size and options, select the desired newsletters to advertise in, and submit your photos and logos. It's that simple. Don't miss out on the opportunity to feature in the next issue—call today 403-720-0762 or email us at [email protected].
Replace this text with: